Interactive experiences aren't really about the technology, they're about people. The people who use the technology to find their way, collaborate or guide them to an important decision. That's at the core of what we do every day, and why we're so thrilled to be finalists at the UK Digital Excellence Awards.
For over thirteen years, the Quintessence team have been creating interactive touch-screen experiences that align sales and marketing objectives and improve sales speed and success. Due to the continued success of the Pro Interactive Site Plan across property projects in recent months, we've been shortlisted in the Best Platform/Tool/Technology category.
Times have continually changed over the years, and demand from tech-savvy consumers has forced property developers to reimagine how they sell homes and meet rising expectations. The ever-adaptable Pro Interactive Site Plan has been right there along the way.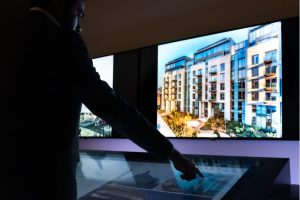 Commercial Pro Interactive Site Plan at Wenlock Works, London
An interactive buyer-enablement tool that takes users on an individualised sales journey, the Pro has proven to be a popular package choice over the last five years in particular, and demand for them is growing.
Suitable for developers of medium to large property developments, the presentation is controlled through a table or wall-mounted touch screen and provides a tailor-made experience that sticks with users long after they leave the marketing suite.
For example, the interactive software can give users the option to view multiple apartment plots for comparison, visualise the entire development and highlight chosen plots on a lit architectural model in sequence. Whether they're on a GCI walkthrough tour or exploring a 3D model, the immersive, multifaceted experience offered to home buyers helps them visualise their new life in that property development, increasing collaboration and sales opportunities for developers. 
Pro Interactive at High Definition, Media City (Latimer)
Earlier in 2022, we were also finalists in the Property Tech Company of the Year category at the UK Business Tech Awards, another Don't Panic Events production.
Winning the Best Platform/Technology/Tool Award would mean a great deal to us all; celebrating the product's success for our clients, and our drive to develop innovative, interactive products for the property industry.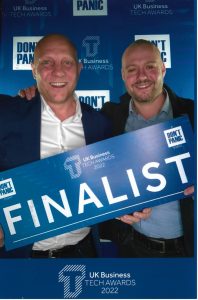 MD Rob and Client Relationship Director Alex at the UK Business Tech Awards
Still, we have some stiff competition and good luck to all of the finalists. Whatever the outcome, we're proud of our team and product for making the cut.
For more information: lisa@quintessenceltd.co.uk
Join us on social media: 
LinkedIn:  Quintessence Ltd
Instagram:  @quintessence_ltd
Twitter:  @quintessenceltd