All human
All human is Ireland's largest independent digital agency with 80+ full-time staff, a wide network of digital associates (c.100+) and strategic partners that offer best-in-class expertise in transforming a brand's online presence. Our 20+ years of digital strategy, design and development experience have resulted in the successful delivery of technical excellence for many household names, including Fáilte Ireland, Lily O'Briens, AXA, Irish Rail, Bord Bia, Irish Life and An Post.
Part of what makes All human different is that when we work with clients, we build long-term relationships, often becoming the 'agency inside' and developing a deep knowledge of our client's people, technology, systems and processes. In addition, we combine our rich history of design and engineering expertise with a strategic focus on consumer behaviour. We then apply the insights gathered from our extensive research to optimise a brand's digital performance and drive business growth.
B2C website of the year finalist
We are thrilled to be nominated for B2C website of the year at the UK Digital Excellence Awards for our work on Discoverireland.ie, a website we designed, developed and built for our client Fáilte Ireland. As requested by Fáilte Ireland, the original objective was to build a website that would become recognised as the trusted 'go-to' source of high-quality information. The goal was a site that would provide visitors with all the details they need to have a brilliant and memorable holiday in Ireland. To deliver on this, the site must enable visitors to easily tap into all that Ireland has to offer, uncovering the local gems and off-the-beaten-track experiences as well as the better-known attractions. Being recognised for delivering a great consumer experience is very satisfying for everyone here at All human and our client Fáilte Ireland.
Helping people to discover Ireland
When it comes to selecting a holiday location, preparation is key. We wanted to make sure that when people went to the site, they were quickly able to find what they were looking for here in Ireland.  We learned from initial research that visitors like to search by destination, so the website provides multiple ways for the visitor to do so. We put the website search front and centre on the home page, a space traditionally used to showcase campaigns, as well as making it easily accessible throughout the site.

Of course, a search is only as good as the information it finds. That's why we worked with our partners and Fáilte Ireland to curate content covering Ireland's environs, counties, towns, tourism attractions and a suite of special interest articles such as coastal escapes, outdoor experiences, and city breaks. Currently, the site offers visitors a wealth of information with an estimated 160 articles, 372 destinations and 20 collection pages.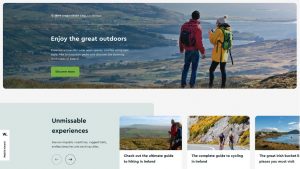 Designing for a great user experience
Discover Ireland's visual approach is guided by four design principles: simple, beautiful, useful and usable. A lot of emphasis was given to the imagery on the site as a way of enticing visitors. We wanted people to feel the spray of the ocean, to get excited and look to explore destinations they did not even know existed.
Given the pervasiveness of smartphones, we adopted a mobile-first design approach. We ensured the optimal experience across all devices and screen sizes for users through mobile-first user experience (UX)design. Within four months of being released, Discoverireland.ie received global recognition for successfully achieving this goal, obtaining the Google & Awwwards Mobile Excellence Award.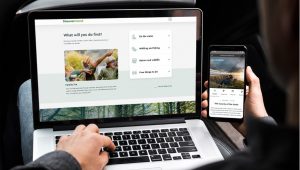 We are working to make the site accessible to all users. Discoverireland.ie is designed to meet WCAG 2.1 AA standards.
"At All human, we strive to design digital experiences that people love. We are constantly evolving, experimenting, and looking for innovative ways to enhance the digital experience. We consider this nomination to be an endorsement of our techniques and results and celebrate the hard work and achievements of our team both internally and in the wider market." – Fergal Lawler,  Experience Design Director, All human.