Leeds-based specialist agency, Circus PPC, are celebrating their first award win of the year following being named 2023's 'PPC Agency of the Year' at the recent UK Digital Excellence Awards.
The award was decided by an expert panel of judges, who said of the agency:
"The agency drove amazing results for their customers. It was great to see ambitious goals and impressive results for a small team. We especially loved the focus on value for clients when given extra budget. They are clearly an agency doing all the right things!"
Having previously won awards for their work with clients including high-end household appliance name, Miele, this is the first agency award for the business, who over the past few years have hit a number of milestones, including moving to offices in Leeds City Centre, and reaching their first £10m year and £1m month.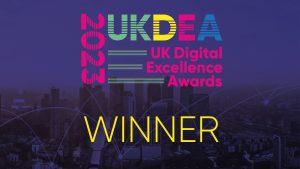 Founder and Managing Director, Rick Tobin, said of the win:
"I could be biased, but there's never been a doubt in my mind that we have the best team of experts at our agency. However, it's really great to be recognised and to have had our hard work praised by fellow industry experts!
We're still a relatively small agency – despite having grown hugely over the past few years – so to be named 'PPC Agency of the Year' is a fantastic achievement that the team absolutely deserves as a result of their dedication, expertise, and passion to learn and help clients grow.
The agency started out as a one-man consultancy over 13 years ago, and to have experienced its growth and expansion into a 15-person strong team of talented professionals that work with incredibly exciting and ambitious clients is amazing.
I know that the agency will continue to reach new heights and hit new milestones and we continue our growth, and continue to deliver outstanding services for our clients as we become bigger, better, faster, and stronger!"
This year, the agency has ambitious plans to continue their expansion, including more hires, more clients, and more results! Speak to the team about your PPC needs by contacting info@circusppc.com or calling 0113 887 7285.
Check out what the team are doing on socials below: